If you're like many pet owners, you love finding the pawfect Halloween costume for your pet each year. Store bought costumes can be expensive, and often run out of stock weeks before the holiday! We've rounded up some of our favorite DIY dog costumes that are safe for your pet, and won't break the bank!
Warning: Costumes may cause excessive "Aww-ing"
1. 90's Beanie Baby Costume 🐶
What you'll need:
White felt
Red felt
Ribbon
Hot glue gun
Fabric scissors
Instructions:
1. Print out the TY logo on computer paper.
2. Tape the logo to a piece of red felt and cut out the heart shape.
3. Place the paper logo on white felt and cut out the letters "TY".
4. Hot glue the felt letters to the heart and attach ribbon to the back.
6. Attach ribbon on the back of the heart using hot glue.
View full instructions here
2. Dirty Dog Martini Costume 🍸
What you'll need:
Clear dog cone
Bamboo skewer
Dark green felt
Red paint
Scissors
Marker
Paint brush
Hot glue gun
Instructions:
1. Draw three ovals on the green felt using your marker, fold it over and cut out two ovals at the same time.
2. Add red dots to the tops of the ovals to create olives.
3. Hot glue the olives onto the skewer and glue the skewer to the inside of the dog cone.
View full instructions here
3. Harry Pawter Costume ⚡
What you'll need:
Black fabric (dimensions dependant on dog size)

Burgundy Felt (number of pieces dependant on dog size)

Yellow Self-Adhesive Felt (number of pieces dependant on dog size)

Needle

Thread

Medium-Size Button

Scissors

Iron
Instructions:
For the cloak..
1. Fold back the top edge of the "cloak" to create a hood effect and then iron it down to make it stay.
(Since all dogs vary in size, try your cloak on your dog to measure the exact placement of the button. The cloak should button on your dog's chest directly under their chin.)
2. Sew the button onto the front chest of the cloak and create a button-hole with your scissors.
For the scarf..
1. Cut strips of burgundy felt, roughly 4 inches wide.
2. Cut strips of the same width from the yellow felt and then cut into two-inch pieces
3. Remove paper back on felt and evenly place on red felt, sticky side down.
4. Stitch the scarf sections together and then iron for a smoother texture.
5. Trim the sides of your scarf to even any imperfections.
6. Add a fringe at each end of the scarf.
View full instructions here
4. JAWS Dog Costume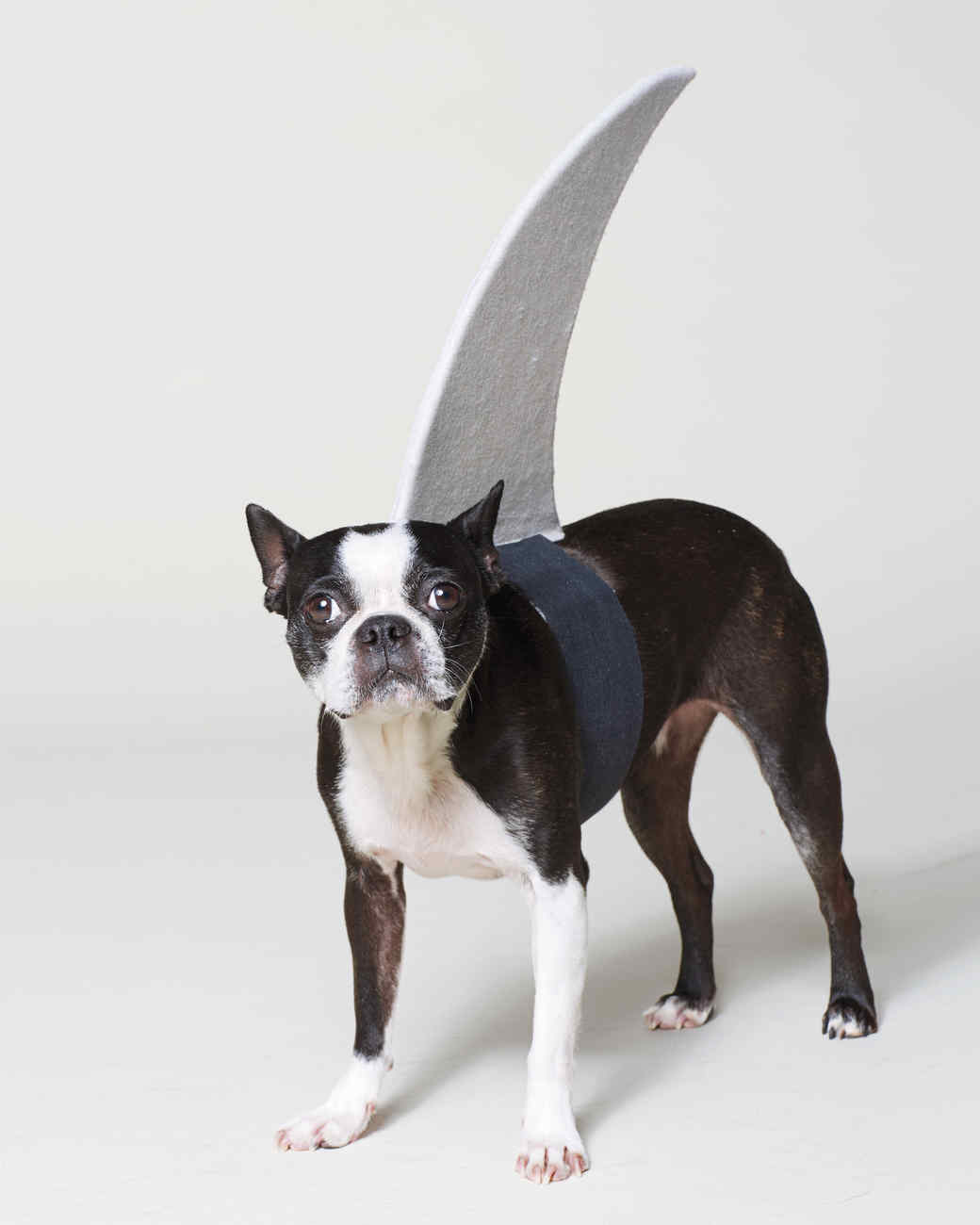 What you'll need:
3-inch-wide elastic (length dependant on dog size)
0.75-inch black Velcro tape
Instructions:

1. Make chipboard and felt fins using Shark Fin Templates I and II. Make a felt flap using Felt Flap Template.

2. Glue chipboard fins together, leaving flaps unattached. Glue felt fin II onto one side of chipboard, folding edges over top. Glue felt fin I onto other side. Fold chipboard flaps out in opposite directions.

3. Cut out about 21 inches of elastic. Glue one end of elastic to top of one folded flap. Glue 3 inches of Velcro to top of other folded flap, and then glue coordinating piece onto other end of elastic. Tack Velcro on with needle and thread for extra strength. Glue felt flap piece to bottom of cardboard flaps.

Note:

Scale the templates up or down depending on the size of your dog; the same goes for the length of the elastic that secures the fin around the belly. Choose elastic in a shade that best matches your dog's coat.
View full instructions here
5. Dog Piñata Costume 🌮
White fabric (T-shirt, Old sheet, etc.)
50 Pack Colorful felt
3/4 inch wide elastic (length depends on dog size)
Hot glue gun
Scissors
Optional - Mini sombrero
Instructions:
1. Using white fabric, cut out a pattern for your dogs size and stature. You will want to measure for the front part (neck to front paws vertically), and for the back measure from the back of the neck to the tail horizontally. (see below)
2. Cut 2 inch x 9 inch strips of the colorful felt sheets. You will want to cut enough strips to cover one side of the white fabric pieces.
3. On each felt strip, make a fringe by cutting 1/2 inch pieces 3/4 of the way up the strip.
4. Using hot glue, glue down each strip of colorful fringed felt on the white fabric. (start from the bottom and work up)
5. flip the costume over, and add 3/4 inch elastic pieces with hot glue from one side of the felt piece to the other. Leave it a little loose, so it won't be too tight on your pup. (see below)
6. If you choose, add an extra piece of elastic to each side of the mini sombrero so that it stays in place on your dogs head (not too tight!)
View full instructions here